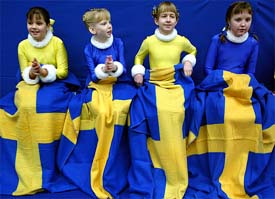 Dear Marc, be happy you're American. I'm Swedish. Sweden's a small country filled with Swedes, speaking an archaic language understood by roughly 9 million people and (perhaps) a handful of Danes.
Your language is beautiful and varied, enrichened by the creative, violent and strange history behind it.
You have words like nipple. A wonderful, fun, pert little word. Know what nipple is called in Swedish? Bröstvårta. Breast wart. All tingly now? It's like a word made up by a dull viking, intending to kill all sensuality by use of language alone.
You have areolas. We have vårtgård. A wart yard. Touch it. Would you? Why would anyone ever want to?
The people that invented Swedish hated boobs and love. They must have. There is no other explanation.
love
-e, writing in English for obvious reasons